Give and Grow with BigYellowBag®
Thank you so much to everyone who used our code to purchase a BigYellowBag® of garden soil or mulch in support of ACS! We hope that your gardens are looking great.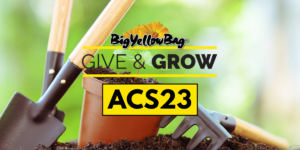 Even though the official campaign is over, you can still support ACS with the Give & Grow program by using our code! You will save $5 per bag of soil or mulch purchased using our unique code. PLUS $10 from every bag will come right back to us at Ancaster Community Services!
Please use our special code — ACS23 — to receive your discount and support ACS. To learn more or to order your garden products and support ACS, visit bigyellowbag.com.
*BigYellowBag® will donate $10 to Ancaster Community Services for every code used!
About BigYellowBag® Black Garden Soil
Getting quality black garden soil and mulch delivered to your home has never been easier than with BigYellowBag®. All you have to do is call 1-855-424-4224 or order online and they deliver. That's it! No lugging, no mess and you don't have to be home to take delivery.
More Information
If you have any questions, please contact us at (905) 648-6675 or email us at ancastercommunityservices@gmail.com. Alternatively, visit BigYellowBag®'s website for further information.