Holiday Assistance Campaign
Our Holiday Assistance Campaign is now complete for 2022.
The 2022 ACS Holiday Assistance Program numbers are in and we are so thankful for the incredible generosity of our community. During the holiday season, ACS was able to provide 107 families with Holiday Hampers and deliver 110 Santa to a Senior gift bags to local seniors. Throughout the month of December, we proudly:
served 384 individuals, a 30% increase over last year
served 186 children, a 28% increase over last year
distributed 10,595 lbs of food
provided $11,115 in grocery gift cards
We could not have accomplished this task without the support of our amazing community. Your donations helped ensure that income-challenged families, seniors, and individuals had a wonderful holiday season with their loved ones. Thank you to everyone who supported ACS with food drives, toy drives, donations from our Tree of Tags, grocery and retail gift cards, or through a monetary donation.
We are also so grateful for our amazing volunteers who helped us with donation collection and sorting, hamper assembly, hamper delivery, and so much more. Without the hard work of our amazing volunteers and their dedication to the community of Ancaster, none of this work would be possible.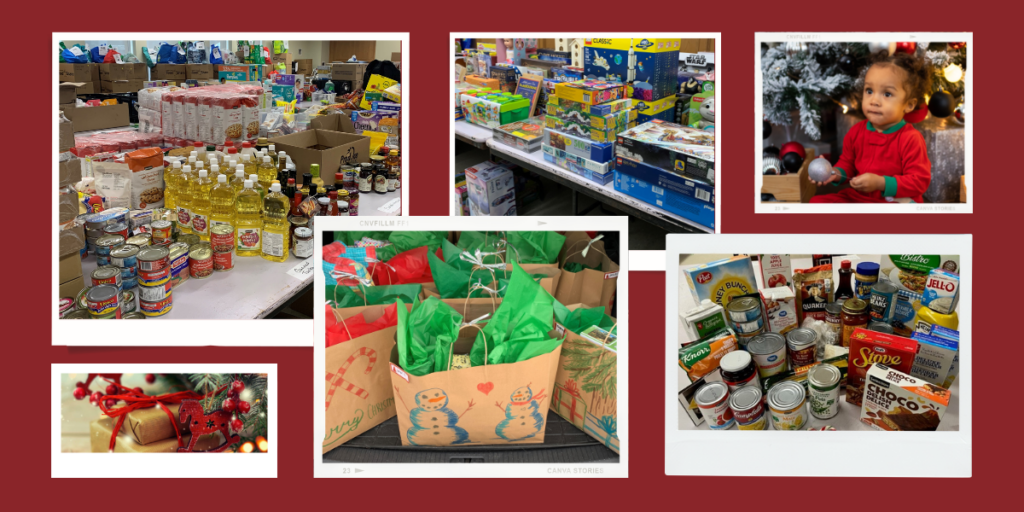 Holiday Assistance Program
The ACS Holiday Assistance Program provides food hampers and gifts to income-challenged families and seniors in the community to ensure that no one gets left behind during the holiday season. 
This fundraiser kicks off on November 12th, 2023 and runs until the end of the year. There are many different ways to help:
Visit our office to select a gift tag from our "Family Tree" to purchase a gift requested by a child
Make a monetary donation to the "Holiday Assistance Program" through our website, in our office, or by mail
Make a monetary donation to the "Santa to a Senior" gift bag program that delivers a care package assembled by The Net, our Youth Engagement Team to our senior clients
Organize a Food Drive on behalf of ACS
We will also be collecting the following gift items:
New, unwrapped toys
Clothing with tags for children under 18 years of age
Outerwear with tags for all ages – including jackets, gloves, mittens, hats, scarves
Household items with tags – new linens, sheets, blankets, pillows
Grocery & Retail gift cards
*ALL ITEMS MUST BE NEW AND UNWRAPPED*
More Information
For more information or to register for this program, please click here.